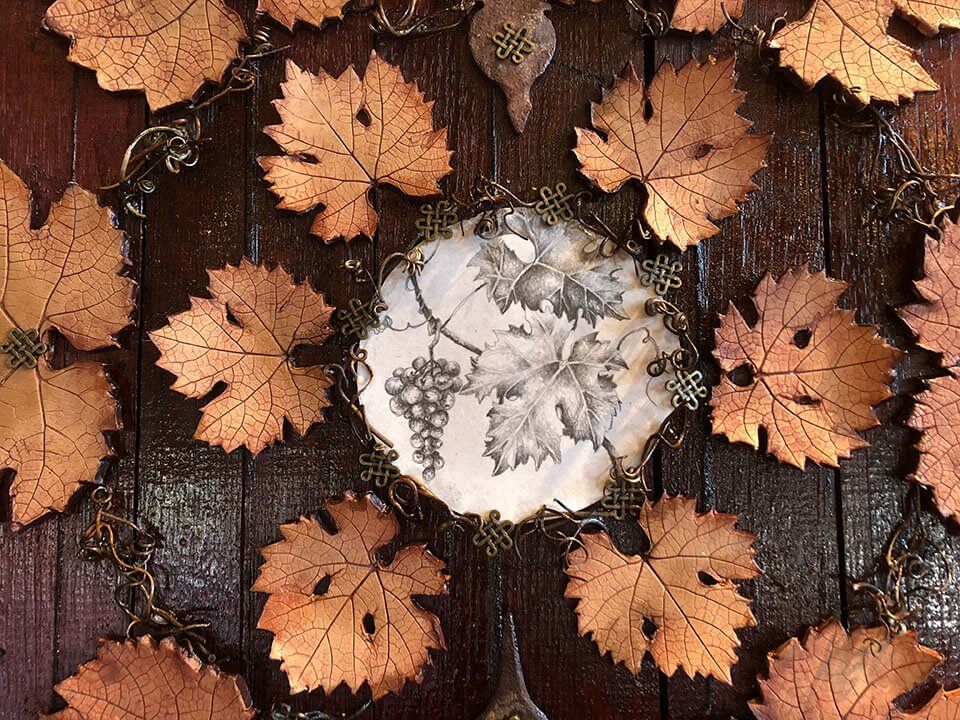 WELCOME
Welcome to Hawkmoth Arts Studio and Gallery. Owner and resident artist Sandy Gray-Murray adds a creative flair to the winery space. The work you will see when you visit is largely inspired by the vineyard / winery and surrounding landscape. A large portion of the work is created using leaves from the estate vineyard and property which are pressed into clay. Each leaf is hand cut and hand crafted into a variety of bowls, trays, and hanging pieces. You will also see pieces of wine barrel, tendrils and canes from the vines and other wine related imagery. A large amount of the work is mixed media; including: clay, encaustic, cast tin, etched glass, acrylic paint and more. If you love nature, you will love this work.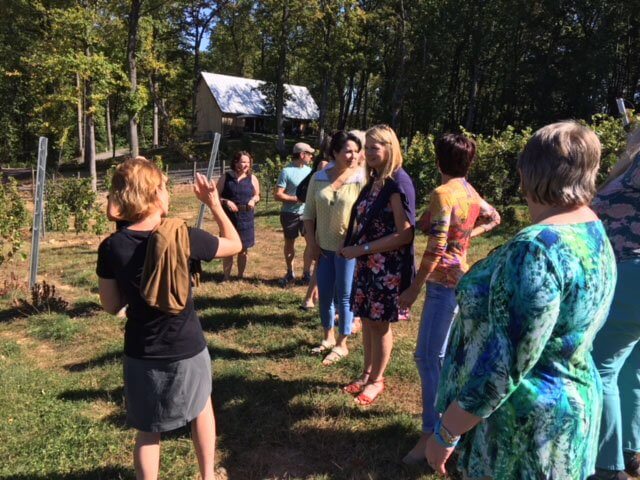 CLASSES
Sandy currently offers year round experiences creating and/or glazing your own artwork.
No experience is necessary. You may call to schedule a private experience or see our Events & Experiences page to see current class offerings.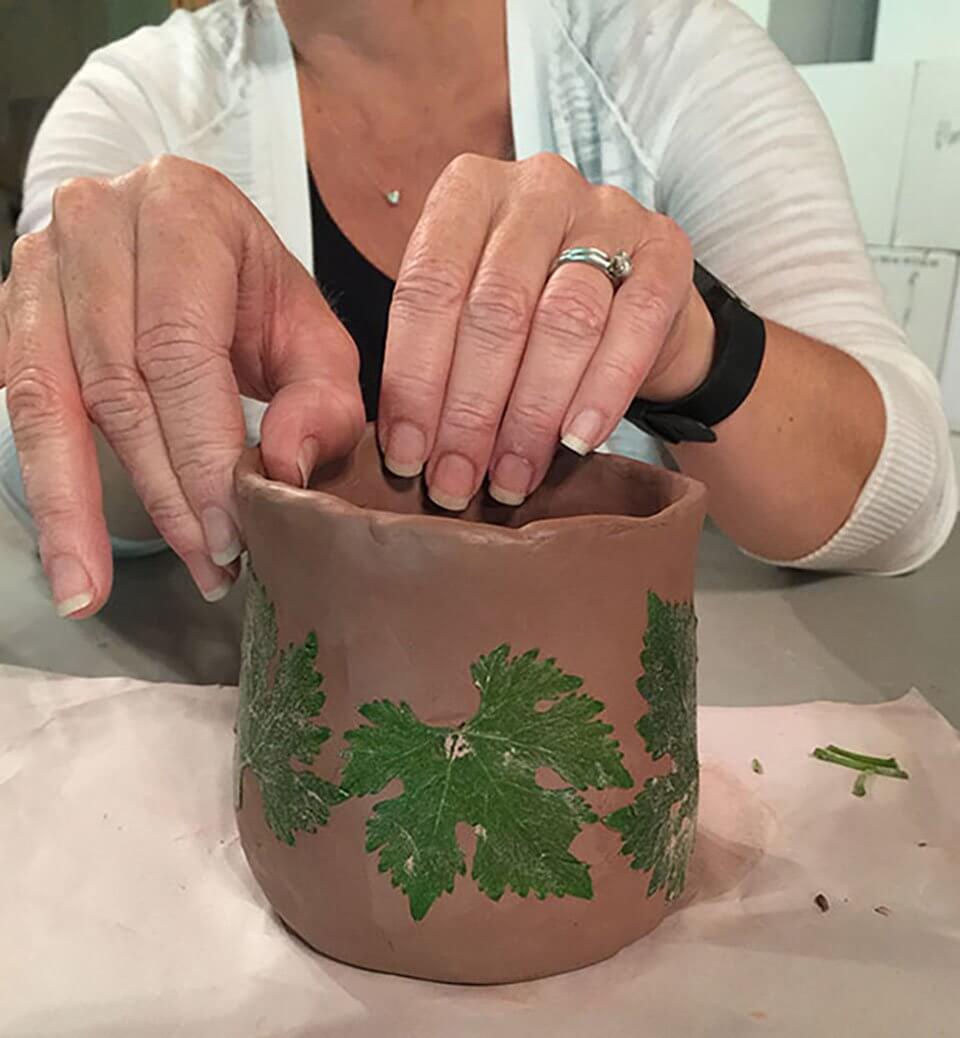 Sip, Sculpt and Glaze:
In this session you will create an artwork from start to finish with clay. You will have the option of making a platter, tray, vase or bowl. Your experience will start with a vineyard tour, where you will walk through our vineyards, hear a little about our grape growing and wine making as well as gather leaves for your artwork. You will then create your piece. After flexing your creative mind, you will unwind with a complimentary wine tasting.
Pricing: The entire experience is $95.00 per person
No More than 6 guests at this time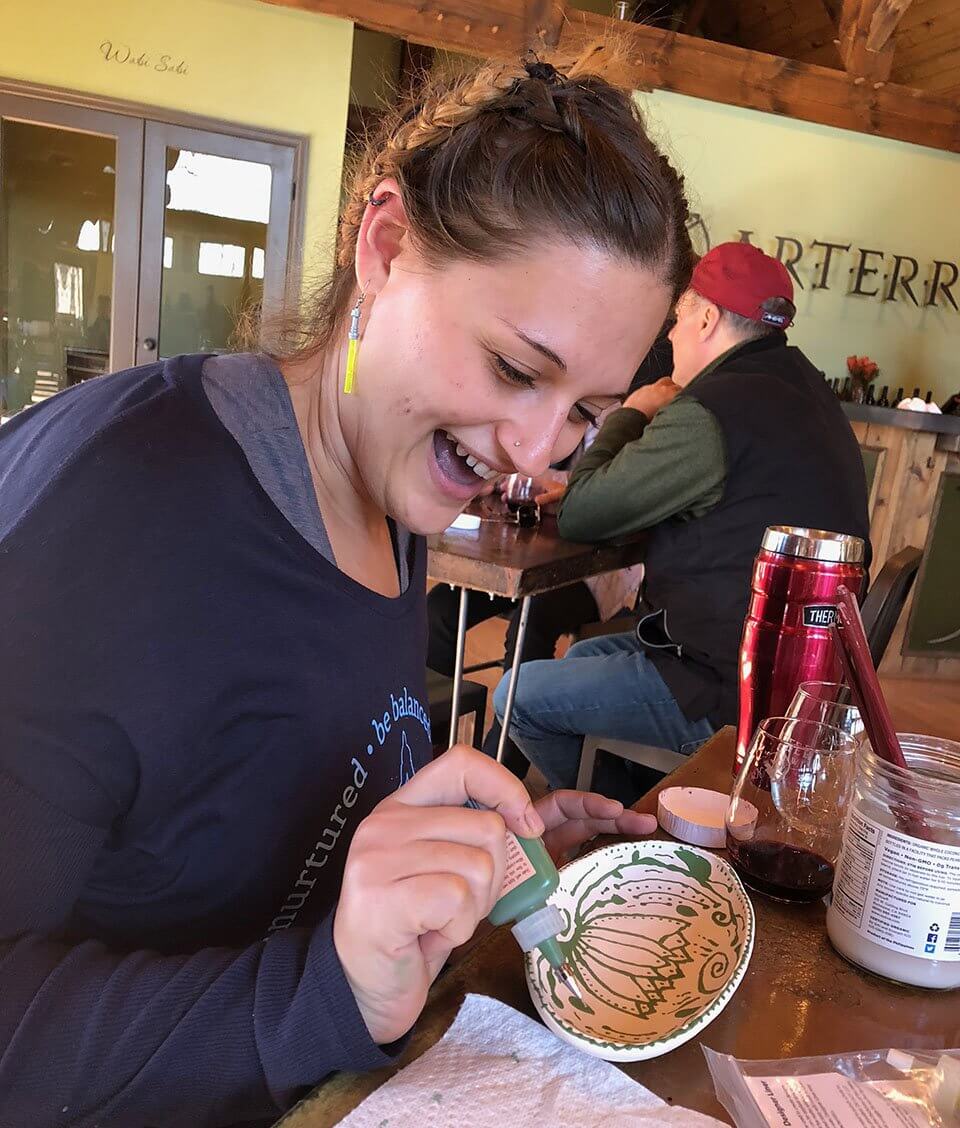 Sip and Glaze:
This is a shorter version of the full experience. This experience allows you to join me in my studio to glaze a piece of your choice. Select a piece from a variety of unglazed works (choices will vary). You will be able to pick your colors and enjoy painting a piece of original Hawkmoth Arts pottery.
The price of this experience depends on the piece you pick to glaze….the average price is $65.00/person.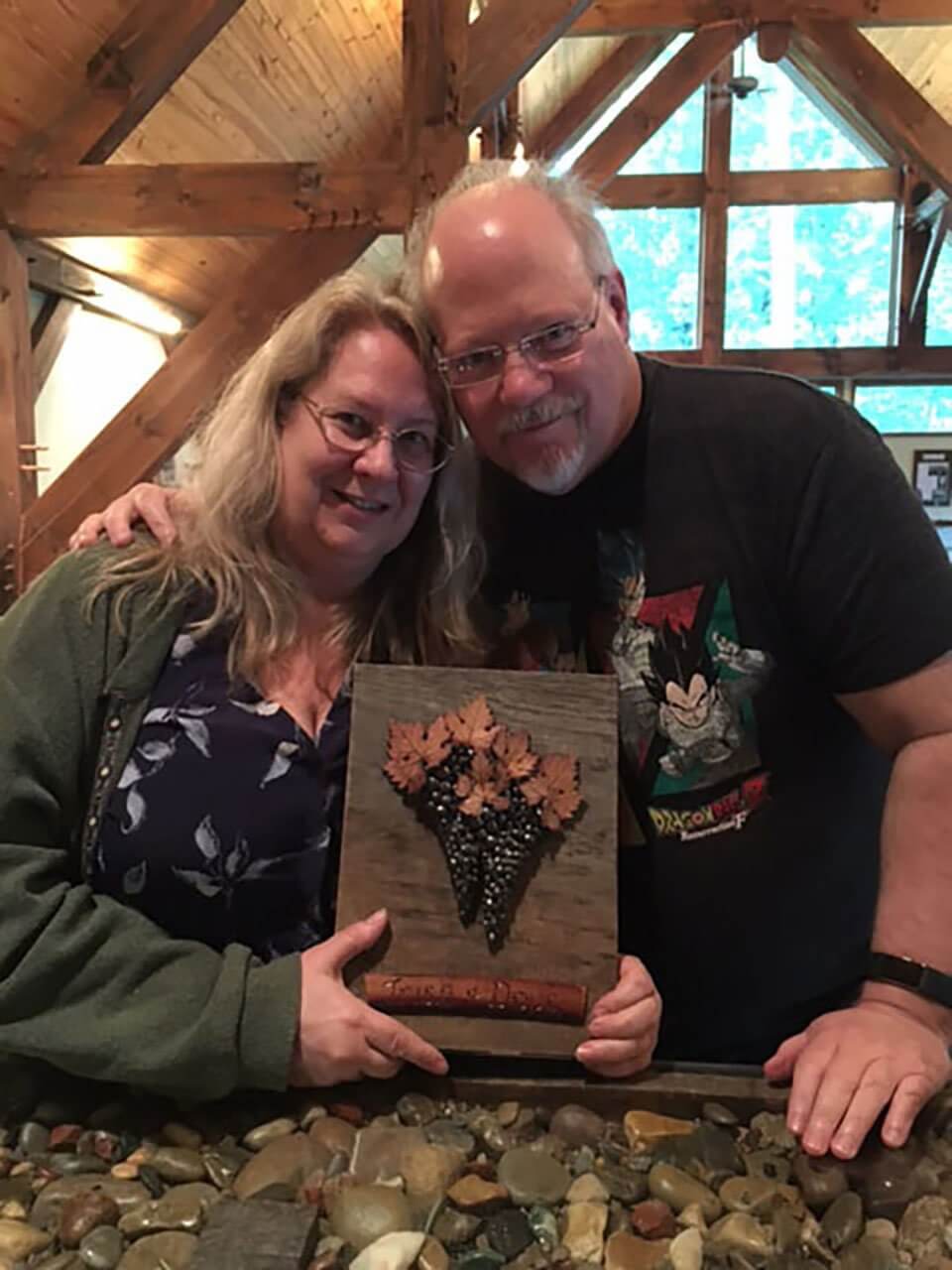 Private Couples Experience:
This is a private experience for 2 people to share.
There are 3 options for this experience: (each includes a glass of wine for each person)
1) Create a set of nesting bowls or a double vase set from start to finish. You will start with a vineyard tour where you will learn about our vineyards and pick leaves for your bowls or vases.
Pricing: The entire experience is $160.00/couple
2) This is a shorter version of the full experience. In this experience you will choose from an already made double vase or nesting bowl set and you will glaze it together. You will be able to choose your colors and join me in my studio to paint an original hand made Hawkmoth Arts artwork.
3) Personalized Grape Cluster:
This experience will involve creating a grape cluster with a personalized message. You will start with a vineyard tour where you will learn about our vineyards and pick leaves for your cluster. You will then join me back in the studio to create your cluster. It could be one large cluster or 2 clusters together. You will decide on your personalized message which I will carve into a piece of barrel stave. I will then mount your piece on stained wood and it will be ready for pick up!
Pricing: The entire experience is $145.00/couple
A Group Sip and Glaze Experience:
In this experience a group of you will come together to glaze a large platter. Using patterns and select colors, you will give your piece character and beauty. This is a perfect gift to give a friend who needs a boost, a boss, or a family member. This experience will include a complimentary glass of wine while you glaze.
Pricing: $225.00 for the group
$255.00 for the group for a platter with leaves
Add a wine tasting for $5.00 per person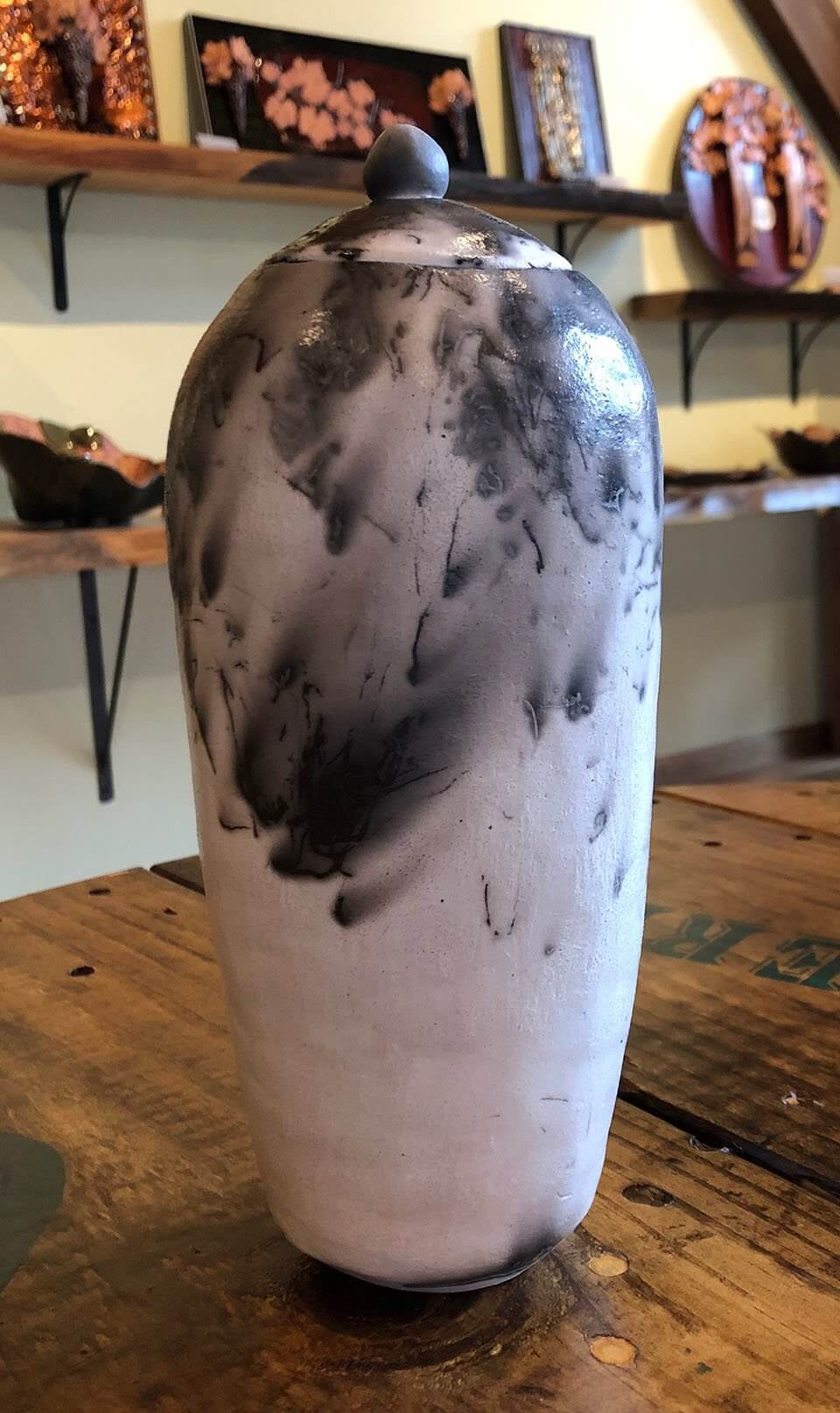 Horse Hair Pottery:
A custom horse hair pottery experience is available, using horse hair from your favorite horse.
Contact Sandy directly for more info!! ~ $75-95.00 per piece
General Notes About
Art Classes
No experience necessary; this is for fun!!
When using clay, I recommend waiting until you are finished and then enjoy wine.
The clay sessions take about 2-2.5 hours
1 Wine Tasting or 1 glass is included with the clay making sessions
Clay making session will require the work to be fired and you to return to glaze
Glazing takes about 1.5-2 hours
Glazing sessions include a glass of wine (optional tasting addition)
For those of you doing the Sip, Sculpt and Glaze, you have the option of letting me glaze your work for you to minimize visits.